Explore Cambodia
Angkor Wat springs to mind at the mention of Cambodia and gazing at a spectacular sunrise behind these glorious monuments promises an unforgettable experience. But there is far more to explore here, including the alluring Phnom Penh, which lives up to its reputation as the "pearl of Asia" and some of Asia's best hidden beaches such as Koh Rong Island with glistening sands and sparkling turquoise sea. The remote Ratankiri region is blossoming as an ecotourism hub to discover natural beauty and interact with elephants in their natural habitat.
CAMBODIA POPULAR PACKAGES

Popular Places and Activities in Cambodia
Ancient World Wonder: Angkor Wat Temple
The largest religious complex in the world made of large stones which has left historians wondering how it was built.
Banteay Srei: Citadel of Women
A small temple lost in the jungle with some of the most detailed stone carvings in the world.
The Prehistoric Capital of Angkor Thom
Explore the vast stone walls, palace, and structures left by an advanced civilization that once ruled the entire region.
The Tonle Sap Lake
Take a small boat to visit floating fishing villages and mangrove forests home to some of the rarest birds in the world on the largest lake in Asia.
Royal Palace
The Royal Families residence which houses some of the most prized treasures of the Kingdom of Cambodia.
Untouched Beaches
Take a luxury vacation on some of the most beautiful island beaches in the world unknown to the vast majority of tourists.
Kayaking with Irrawaddy Dolphins
Discover the rare fresh water Irrawaddy Dolphins in the Mekong while kayaking through beautiful water forests.
Zipline from Archaic Trees
Enjoy a day flying through the ancient trees of the Angkor Archeological Park with Flight of the Gibbon.
Local


Experts

We know our countries inside and out and can recommend the "must see" places based on the kind of travel you enjoy.
Safety


First

Licensed guides and drivers, thru-trip emergency phone with our contacts so you can reach us at the push of a button, vehicles with seatbelts and airbags... - your safety is important to us.
Experience


Asia in Comfort

Travel at the pace you want with the comforts you expect. Air conditioned vehicles and rooms, hotels with WIFI, Western toilets and bathrooms.
Price


Transparency

We provide the costs up front and in detail so you know where the costs for your trip are coming from.
Speak
with a specialist
Submit our inquiry form and someone will contact you by email or phone to start the conversation about your travel plans or questions.
Customize
your plans
Your travel consultant will listen to your travel interests and requirements design a draft itinerary. Feel free to make requests and we will let you know about your options and adjust accordingly.
Booking
your tour
Once the tour is planned how you like, simply send deposit to reserve the tour and lock in the hotels and rate. Tour Confirmation will be sent with 14 days of deposit. Remainder will be settled 60 days before traveling.
Begin
your holiday
Feel free to contact our team for any questions before your big day arrives. We will also contact you during the trip to make sure everything is going smoothly.
REQUEST A FREE QUOTE
It's easier than ever to get going! Request a quote today!
One of our Travel Experts will reach out to you and assist you with an itinerary and quote. Also, feel free to leave your phone number and we will give you a quick call just to say hello and clarify any questions we have about your inquiry.
(*Indicates Required Fields)

Charles

Jeremiah

Jason
SUGGESTED ARTICLES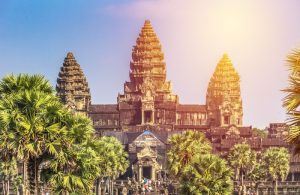 Destinations, Destinations | August 05, 2016
Angkor Wat Sunrise – An Early Morning The air is cool on my skin and the sky still dark....