Discover Nepal
The home of Mount Everest, as well as the vast majority of the world's tallest peaks; Nepal has long been a destination that rewarded the few visitors who made the difficult journey. It is now easier than ever to discover the unearthly wilderness found throughout this compelling country. While trekking may be the major activity, cities such as Kathmandu offer an alluring insight into the country's vibrant culture.

Popular Places and Activities in Nepal
MOUNT EVEREST
Bask in views of the tallest mountain peak in the world.
DISCOVER BUDDHA'S ROOTS
Visit the birthplace of Buddha to learn about the origins of the eastern religion.
SEE THE KUMARI PRINCESS
Meet a living goddess worshiped worldwide by Nepalese. The Kumari Princess tradition dates back over 2,300 years.
PALACE OF THE MALLA KINGS
Discover the palace home of the Malla Dynasty dating back to the 13th century.
EXPLORE THE BHAKTAPUR KINGDOM
See the remains of the ancient Bhaktapur which was an ancient kingdom.
EXCURSION TO PHEWA LAKE
Take a boat on the pristine Phewa Mountain Lake with the silhouette of the Himalayas on the horizon.
SAFARI WITH TIGERS AND RHINOS
Take a jeep ride through the Royal Chitwan National Park, home to Bengal Tigers and the Great Indian Rhinoceros.
UNCOVER NEWARI CULTURE
Hike to remote Newari villages. Meet locals living in their traditional lifestyle among ancient temples. And view spectacular mountain peaks.
Local


Experts

We know our countries inside and out and can recommend the "must see" places based on the kind of travel you enjoy.
Safety


First

Licensed guides and drivers, thru-trip emergency phone with our contacts so you can reach us at the push of a button, vehicles with seatbelts and airbags... - your safety is important to us.
Experience


Asia in Comfort

Travel at the pace you want with the comforts you expect. Air conditioned vehicles and rooms, hotels with WIFI, Western toilets and bathrooms.
Price


Transparency

We provide the costs up front and in detail so you know where the costs for your trip are coming from.
Speak
with a specialist
Submit our inquiry form and someone will contact you by email or phone to start the conversation about your travel plans or questions.
Customize
your plans
Your travel consultant will listen to your travel interests and requirements design a draft itinerary. Feel free to make requests and we will let you know about your options and adjust accordingly.
Booking
your tour
Once the tour is planned how you like, simply send deposit to reserve the tour and lock in the hotels and rate. Tour Confirmation will be sent with 14 days of deposit. Remainder will be settled 60 days before traveling.
Begin
your holiday
Feel free to contact our team for any questions before your big day arrives. We will also contact you during the trip to make sure everything is going smoothly.
REQUEST A FREE QUOTE
It's easier than ever to get going! Request a quote today!
One of our Travel Experts will reach out to you and assist you with an itinerary and quote. Also, feel free to leave your phone number and we will give you a quick call just to say hello and clarify any questions we have about your inquiry.
(*Indicates Required Fields)

Charles

Jeremiah

Jason
SUGGESTED ARTICLES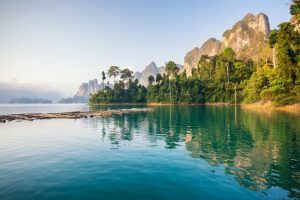 Destinations, Destinations | August 05, 2016
Today we arrived at Khao Sok National Park. It's situated between Krabi Khao Park, Koh Samui and Phuket. Our tour guide...