Inle Lake-The Tranquil Life Of Intha People
August 05, 2016
An Early Morning at Inle Lake…
We start our visit on Inle Lake very early in the morning. Other travelers have told me that watching the sun rising over the lake is a special experience. The sight of the sun rising over the mountains is spectacular. I feel ready and exhilarated for the forthcoming day. Inle Lake is around 22km long and at its widest point reaches 11km across. The view is divine -so fluid and placid. It feels as though we are gliding through a dream that I still have not woken from.
The Intha People of the Lake
Along Inle Lake, there are around 80,000 Intha people that live there in their own community, famous for fishing and farming. Various flowers, fruit, and vegetables grow on the lake, which lake-dwellers sell in the markets to other locals. It is an amazing site. Also, locals are selling ikat woven tapestries from textile stalls found on the lake. The pattern used in this particular type of weaving is unique to the area. And this pattern has become quite famous for its bright colors and geometric shapes.
As I look over Inle Lake, I can see the houses of locals on stilts throughout. Instead of roads, there is water. Instead of cars, people commute by boat. The lake's canals are lined with gardens on the edges. The locals have found it better to stand while rowing.  Standing allows them to easily navigate the gardens. Because of this, the Intha's have developed a unique style of rowing.
As we pass by on our boat, I observe a rower using one leg as a brace in the boat. Meanwhile, the other leg holds the oar to maneuver through the lake. A fisherman nearby sees that we are noting this unusual form of rowing and started to do some almost acrobatic moves on his boat. Balancing on one leg with his cone-shaped net in one hand and his oar in the other, I hold my breath waiting for him to topple over and fall into the water. He looks over and grins, regaining his balance showing just how skillful he is.
Floating Market
Next, we head over to the infamous floating markets discover the locals trading and buying food and clothing from each other as well as countless utensils. It seems they are also ready for us with various crafts waiting to be sold. We head over to a restaurant on the lake. The afternoon entertains us with a spicy tea leaf salad. Meanwhile, I watch passing boats on the silvery lake that has enchanted me.
RELATED ARTICLES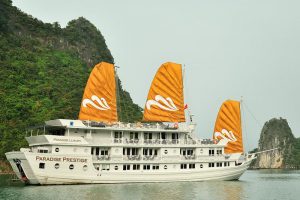 November 07, 2017
With almost 2,000 ancient islands peaking above the sparkling, turquoise waters, it is safe to say that Halong Bay...