Bagan Valley of a Thousand Temples
August 05, 2016
Ok, I will admit it. I am a bit of a temple hunter. And Bagan Valley is where it's at if it's temples that you're after. Nowhere in the world are there as many temples as there are here. Throughout the expanse of Bagan Valley exist over two thousand temples. During ancient times, the valley held around 10,000 temples making its present day size comparatively minimal. According to Burmese legends, the kings would try to outdo the previous king each time a new monarch was crowned between the 11th and 13th Centuries. This was to show their power and influence during their reign. During this time thousands of temples sprouted in Bagan. And, luckily for me, there are so many to see. These cone shaped temples cover virtually everywhere around. The scenery is like something out of a movie.
Ananda Temple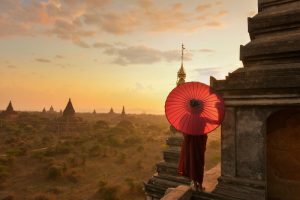 Today I make my way over to one of the few famous surviving pieces of Mon architecture left in the world – the Ananda temple. The best preserved and most esteemed temple in Bagan is Ananda. Most Archeologists believe King Kyanzittha built the temple around 1105 AD. Unfortunately, an earthquake damaged the temple back in 1975. Recently, however, restoration efforts have restored it perfectly in all its glory. The spike on top of the pagoda(the gilded shikhara) is the most distinguishing feature. It is visible from several kilometers away. As always, it is imperative to respect the culture that you encounter. So I wrap the sarong I have taken with me around my shoulders. It is a holy temple and monument for the locals. Even though Buddhists are not confronting in nature, visitors must show due respect.
Bagan Archeological Museum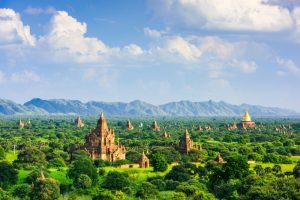 I make a point to visit the Bagan Archaeological Museum also, which is a millennium old. Buddha statues, ancient utensils, pottery, pieces of inscribed palm leaves, Myazedi inscriptions and the famous Rosetta stone of Burma can all be found inside the museum.
Sunset from a Temple Top
After dinner, we make our way up to another local pagoda to watch the sunset. The sunset over the thousands of temples in view is arguably one of the best I have ever seen. We hear monks in the temple chanting the Buddhist mantra as they guide the setting sun until it has disappeared over the horizon.
RELATED ARTICLES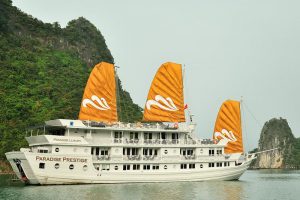 November 07, 2017
With almost 2,000 ancient islands peaking above the sparkling, turquoise waters, it is safe to say that Halong Bay...